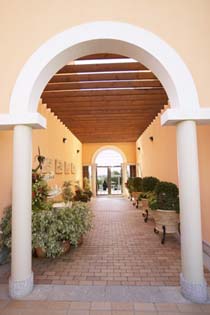 Campoamor Golf Hotel: courtyard
Campoamor Golf Hotel:
Facts & Figures
Accommodation:
66 comfortable and classically decorated rooms (16 single, 20 double, 24 junior suites with sitting room and bathroom for 2 persons, 6 suites with double bed, single bedroom, sitting room and 2 bathrooms for 3 persons) all with magnificent views of the golf course.
Menu:
Breakfast included
Distances:
20 km from Murcia and 50 km from Alicante Airport.
Special Golf Offer:
Golf Sun Holidays offers reduced green fees for all clients staying at Campoamor Hotel on Campoamor Golf, La Marquesa, Las Colinas, Vistabella, Villamartin Golf, Las Ramblas Golf ,La Finca Golf, Roda Golf, Alhama Signature, Saurines de la Torre, Mar Menor, La Torre , El Valle Golf Club , Hacienda Riquelme, Lo Romero golf courses.
Campoamor Golf Hotel

Orihuela Costa, Alicante, Costa Blanca, Spain
Official Rating: 4 star
Golf Sun Holidays' Campoamor Golf Hotel Golf Package:
3 nights accommodation at the 4-star Campoamor Golf Hotel in Orihuela Costa (Alicante), with breakfast daily, including 2 rounds of golf on Campoamor Golf Club:
Please enquire for current prices
Enquiries: Campoamor Golf Hotel Golf Package
The Campoamor Golf Hotel is located within easy reach of sandy Orihuela beaches and overlooks the 18 hole Royal Campoamor Golf Club. The Hotel is equipped to ensure that all its clients enjoy the maximum of comfort, plus the opportunity to play golf, tennis and squash, or just relax and socialise.The hotel is designed around a patio which ensures an enclosed entrance accessible only to its residents.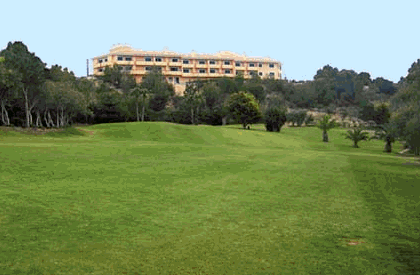 Campoamor Golf Hotel: Accommodation and Amenities
Especially recommended for: couples, foursomes, families, golfing groups
Resort Golf:
Campoamor Golf
Recommended Golf Nearby: Villamartin Golf (10 min), Las Ramblas Golf (11 min) , Las Colinas (15 min), Lo Romero (16 min), Vistabella (21 min), La Finca Golf (25 min), La Marquesa Golf (29 min) .
Campoamor Golf Hotel Location Map:


Get a price quote for a golf holiday at Campoamor Golf Hotel