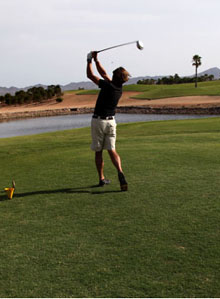 Hacienda del Alamo Golf has eight lakes
Hacienda del Alamo Golf: Facts & Figures
18 holes , Par 72


White 6724 m, Par 72


Yellow 6375 m, Par 72


Blue 5994 m, Par 72


Red 5534 m, Par 72
Designer:
Dave Thomas
Practice Facilities:
6 hole academy course, driving range, putting green

General Facilities:
Clubhouse, pro shop, changing room, billiard room, WIFI room, TV room, covered buggy storage, club storage, sauna, bar & restaurant, padel courts, tennis courts, bowling green, football and rugby pitch
Golf academy:
Hacienda del Alamo provides the ideal place to sharpen your game and perfect your swing. The golf academy includes the latest state-of-the-art instruction technology and you can put your hard work on the driving range into practice on the six practice holes available.
Hacienda del Alamo Golf
Fuente Alamo, Murcia, Costa Calida, Spain
Considered the longest layout in Spain, Hacienda del Alamo's 7,400-yard course boasts eight lakes and 84 bunkers and will provide a challenge for all standards of golfers. The first Hacienda del Alamo golf course is masterly, thanks to the painstaking work of Dave Thomas, who had all the land he could want to design it, with this idea in mind: There are no limits. That is to say, the golf course was designed with no restrictions on space, as if nothing else existed and then the houses were added so there would be plenty of breathing room with broad open spaces. The golf course is wide, with long holes, spacious, and with many lakes. It is very soft, because it is built on natural terrain. At the same time, it has some very well-planned obstacles. It takes five hours to play, and there are tee-offs every ten minutes, even on very busy days. There is no such thing as a "slow game." You can enjoy the course calmly, without hurrying.
"This is a wonderful new golf course, more than capable of hosting professional championships but also ready to be enjoyed by golfers of all standards." -- Miguel Angel Jiménez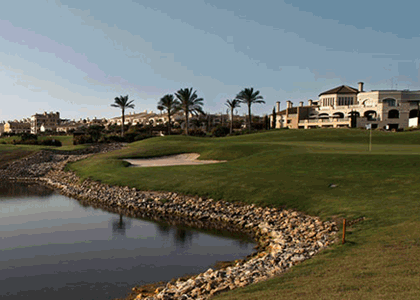 Hacienda del Alamo Golf: Views of the course

Discount Green Fees & Book Tee Times
We offer our clients guaranteed tee times with discount green fees on Hacienda del Alamo Golf Club

Green Fees

Book Tee Times
Hacienda del Alamo Golf Location Map:
Get a price quote for a golf holiday including Hacienda del Alamo Golf