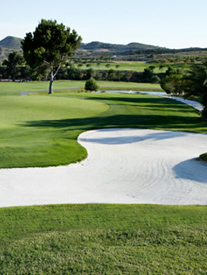 Bunker on Alenda Golf
Alenda Golf Club:
Facts & Figures
18 holes, Par 72
Designer: Roland Favrat


White - 6360 metres
Slope 130, Rating 73.5


Yellow - 6046 metres
Slope 128, Rating 72.4


Red - 5284 metres,
Slope 125, Rating 74
Facilities:
Covered driving range, putting green, chipping green, practice bunker.
Restaurant, snack bar, clubhouse, parking, pro shop, buggy hire, club hire, trolley hire, club repair, changing rooms, golf classes, tennis, paddle tennis.
Handicap restriction:
36 Men, 42 Ladies
Alenda Golf Club
Monforte del Cid, Alicante, Costa Blanca, Spain
Gently rolling, varied course with well distributed holes, Alenda Golf Club was designed by Roland Favrat and opened in 1999. The fairways are gently rolling and the greens have tricky slopes requiring a good line and putting stroke. The first 9 holes are wide and lined by trees. The last 9 holes require great concentration — precision counts for more than distance. An entertaining course for players of every level.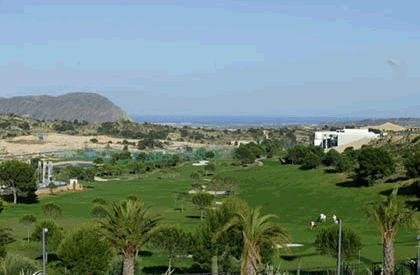 Alenda Golf: Views of the course

Discount Green Fees & Book Tee Times
We offer our clients guaranteed tee times with discount green fees on Alenda Golf Club

Green Fees

Book Tee Times
Alenda Golf Club Location Map:
Get a price quote for a golf holiday including Alenda Golf
Back to Costa Blanca Accommodation