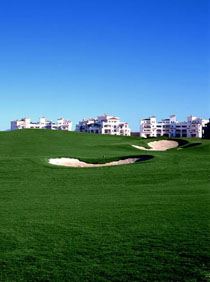 Hacienda Riquelme Golf Club
Hacienda Riquelme Golf Club:
Facts & Figures
18 holes, Par 72
Opened 15 March 2008


Championship - 6,356 meters, VC 73.4, Slope 137


Yellow - 5,854 meters,
VC 70.7, Slope 130




Blue - 5,552 meters,
VC 75.1, Slope 130


Red - 5,084 meters,
VC 71.8, Slope 124
Hacienda Riquelme scorecard and course layout
Facilities:
Driving Range, putting green, short game area.
Tournaments:
Home of the European Tour School stage 2- 2010 &2011
Hacienda Riquelme Golf Club
San Javier, Murcia, Spain
Hacienda Riquelme is an 18 holes, par 72 course located between the mountains and Sucina, a beautiful area that has been designated a regional natural park.

The course has been designed to keep the natural look to the area, with the course weaving its way through and around wildflowers and olive trees. Hacienda Riquelme is one of the most unique courses along the Murcia Golf Experience Trail. With numerous subtle random contours featured on the green, putting is further complicated. The wider than average fairways allow all golf players a great opportunity to play, with plenty of room across the contoured greens.

Setting Hacienda Riquelme apart from the other courses is the unique bunkering. The numerous amounts of large rugged bunkers are deep with sand of up to three meters. Jagged cut edges add further difficulty to the rugged nature of the course.
Views of Hacienda Riquelme Golf Club
Discount Green Fees & Book Tee Times
We offer our clients guaranteed tee times with discount green fees on Hacienda Riquelme Golf Club

Green Fees

Book Tee Times
Hacienda Riquelme Golf Club Location Map:
Get a price quote for a golf holiday including Hacienda Riquelme Golf