Font del Llop Golf

Monforte del Cid, Alicante, Costa Blanca, Spain
Font del Llop Golf Resort offers golfer a good quality and challenging course. It is an 18-hole par 72 golf course, of American design and Scottish layout that will challenge and delight all kinds of players.
Font del Llop is a course totally integrated into the area's scenery in a gentle, natural way. The splendid views from the course and the layout of its fairways make for a technical game of golf that invites the player to use all his golf clubs.
The hills integrated into the valley, the natural water courses and a small river that inter-connects five ponds, make these 18 holes a marvellous excuse to enjoy the open air and have fun together with other friends.
The course, designed by Blake Stirling and Marco Martín, offers the player a playing area of international size that has five exit tees for each hole — with each green having its own personality.
Font del Llop has been thought out so that both the experienced player can be challenged and the beginner, immediately enjoy the game!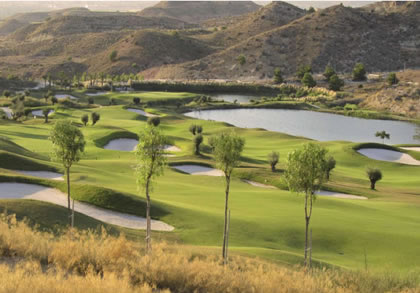 Bunkers feature on Font del Llop Golf

Discount Green Fees & Book Tee Times
We offer our clients guaranteed tee times with discount green fees on Font del Llop Golf Club

Green Fees

Book Tee Times
Font del Llop Golf Club Location Map:
Get a price quote for a golf holiday including Font del Llop Golf
Back to Costa Blanca Accommodation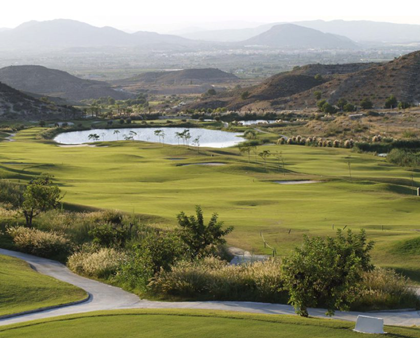 View of the hills from Font del Llop Golf
Font del Llop Golf: Facts & Figures

18 holes, Par 72

White - 6313 metres

Yellow - 5870 metres

Blue - 5454 metres

Red - 4860 metres

Pink - 4530 metres
Designers:
Blake Stirling and Marco Martín
Opened:
April 2010.

Open: all year round

Facilities:
The golf course has its own spacious and comfortable Club House with kindergarten, private rooms for members, an area for events, a shop, changing rooms and bag storage room – without forgetting the magnificent restaurant with its large terrace from where 12 of the 18 holes can be sighted.
Nearby:
The Font del Llop Golf Resort, is surrounded by beautiful scenery and its location invites us to enjoy life in the many enchanting nearby cities and towns. Towns like Monforte del Cid, where the historic and cultural wealth is one of its principal tourist attractions whilst maintaining its traditional charm. Elche, with its two World Heritage Sites is a perfect oasis that offers unique cultural and scenic wonders.
Get a price quote for a golf holiday including Font del Llop Golf