Vila Gale Cascais Hotel
R. Frei Nicolau de Oliveira, 80, Parque da Gandarinha
2750-641 Cascais
Official Rating: 4 star
Vila Gale Hoteis Group, RNET 889

Situated in the the historic quarter of Cascais, Village Cascais Hotel overlooks the Atlantic Ocean nd is only a few metres away from the renowned Marina de Cascais. Only 800 metres from the centre of Cascais, the hotel is perfectly situated for those who would like to take in the sophistication and culture of the Cascais area as well as a variety of activities including golf, shopping, sightseeing and the beach. With its 233 large rooms, the quality of its cuisine, its multi-purpose facilities, and its proximity to 14 golf courses, this hotel is absolutely perfect for golf holidays. It is recommended you take the Seafront Drive past Estoril, less than 10 minutes away, go the Casino of Estoril, the largest in Europe, and relax on the beach at the famous Praia do Tamariz.
HOTEL CLOSURE: 8 November 2020 - 31 March 2021. Reopening 1 April 2021.
All Vila Gale Hotels will have the Clean & Safe label, issued by the Portuguese Tourism Board. And they will follow a a very strict operating plan in accordance with the recommendations of the Directorate-General for Health (DGS) and the World Health Organization (WHO), focusing on three fundamental aspects:
• Reinforce cleaning and disinfection measures;
• Ensure the availability of personal protective equipment;
• Safeguard the required social distancing.
This plan will be adapted according to how the pandemic evolves and to any new rules defined by law.
Especially recommended for: 
Couples, foursomes, golfing groups and societies, and families.
Recommended Nearby Golf: 
Estoril Golf (9 min), Oitavos Dunes (8 min) ,Quinta da Marinha (10 min), Penha Longa (16 min) , Pestana Beloura (16 min) , Lisbon Sports Club (28 min) , Belas Golf (25 min)
Golf Sun Holiday's Vila Gale Cascais Golf Package:
3-7 Nights accommodation in a double room with balcony at Vila Gale Cascais Hotel with daily breakfast included, and 2-6 rounds of golf on Estoril Golf, Oitavos Dunes, Quinta da Marinha, Penha Longa, Pestana Beloura golf courses.

Please enquire for current prices 

Book The Oitavos Hotel Golf Package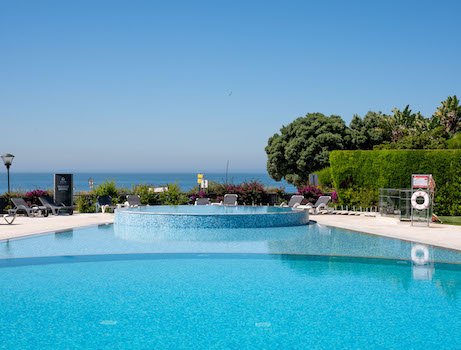 Get a price quote for a golf holiday at Vila Gale Cascais Hotel, Cascais
Lisbon, Cascais, Blue Coast & Silver Coast Accommodation