H10 Universitat
Ronda Universitat, 21, E-08007-Barcelona Centre
Barcelona, Spain
Official rating: 4 stars Group: H10 Hotels
Located in the heart of Barcelona, just 100 metres from Plaça Catalunya, the H10 Universitat is set in a late 19th-century building that has been perfectly restored. Recently renovated, its elegant interior design pays tribute to the importance of design in the city of Barcelona. The colours black and white predominate the hotel's spaces, using materials such as oak as the common thread. The hotel features comfortable rooms, the Urban Restaurant for breakfast, the Moments Lounge Bar, two meeting rooms and the Twenty One Terrace on the top floor with views of the city centre. There are eight golf venues within 20-45 km.
HEALTH & SAFETY:
Click to see the H10 Hotels' safety program, preventative protocols and increased sanitation measures which were updated in 2021.
Note: Restaurants will be prioritised as table service, individual presentations and show-cooking.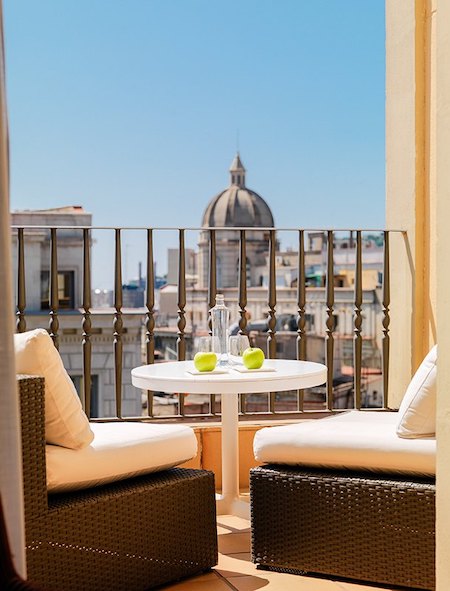 Especially recommended for: couples, golfing foursomes, families
Nearby golf: Sant Cugat (19.6 km), Vallromanes Golf (25.1 km), Real Club de Golf El Prat (30.5 km), Matadepera Golf Course (35.1 km), Barcelona Masia Bach Golf Club (37.4 km), Golf La Roca (38.2 km), Llavaneres Golf (38.9 km), Terramar Golf (45.6 km)
Golf Offers:
Golf Sun Holidays offers discounted rates for clients staying at H10 Universitat: Barcelona Masia Bach Golf Club, La Roca Golf, Llavaneres Golf, Matadepera Golf, Real Club de Golf El Prat, Sant Cugat, Terramar Golf, and Vallromanes Golf.
Get a price quote for a golf holiday at H10 Universitat