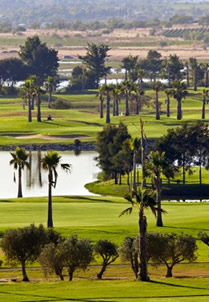 Salgados Palm Village Apartments & Suites is located 400 metres from Salgados Golf Course

Salgados Palm Village:
Facts and Figures

Facilities at Salgados Palm Village:
• All Inclusive hotel in Albufeira, Algarve, from April to October
• 283 Accomodation units
• 10 Outdoor pools (4 for children)
• 3 Restaurants
• 2 Bars
• 2 Pool support
• Kids Club from 3 to 12 years old (seasonal opening)
• Seasonal entertainment program, during the day and evening, for adults and children
• Extensive gardens
• Free covered and outdoor parking
• Free Wi-Fi in all suites/family rooms and restaurants
• Pets are not allowed (except guide dogs)
Golf:
18 hole Salgados Golf Course with driving range, chipping greens with practice bunker, golf school, changing rooms with showers and lockers, relax centre, Club House, well-stocked Pro-Shop, buggies, golf clubs and trolley (about 400m away)

Associated Golf Courses:
Salgados Golf Course, Morgado and Alamos golf courses
Accommodation:

Suites and Family Rooms:
• 283 Family accommodation units of various types (see below)
• All the Suites/Family Rooms are equipped with air conditioning, hair dryer and safe. There is a phone for each suite/family room and LCD TV (no TV in all rooms).
• Children under 12 years will be on sofa bed or cot, extra beds are not permitted.

Junior Suites:
• 28 Junior Suites (79 sqm) - with and without pool view
• Max. Occupancy: 2 adults + 1 child ≤ 12 years old
• With one double bedroom and a shared living room, a bathroom and a large balcony

Junior Suite Plus:
• 05 Junior Suite Plus (74 sqm)
• Max. Occupancy: 3 adults + 1 child ≤ 12 years old
• With one double bedroom and a shared living room, a separate individual bedroom, a bathroom and a large balcony

Suites:
• 88 Suites (89 sqm) - with and without pool view
• Max. Occupancy: 2 adults + 2 children ≤ 12 years old
• With one double bedroom, a living room, a bathroom and a large balcony

Suites Plus:
• 04 Suites Plus (107 sqm)
• Max. Occupancy: 3 adults + 1 child ≤ 12 years old
• With one double bedroom, one single bedroom, a living room, two bathrooms and a large balcony

Deluxe Suites:
• 116 DeluxeSuites (119 sqm) - with and without pool view
• Max. Occupancy: 4 adults + 2 children ≤ 12 years old
• With two double bedrooms, a living room, two bathrooms and a large balcony

Suites Extra:
• 07 Suites Extra (132 sqm)
• Max. Occupancy: 6 adults + 1 child ≤ 12 years old
• With three double bedrooms, a living room, three bathrooms and a large balcony

Suites Master:
• 02 Suites Master (151 sqm)
• Max. Occupancy: 8 adults + 1 child ≤ 12 years old
• With four double bedrooms, a living room, four bathrooms and a large balcony

Family Rooms:
• 05 Family Rooms (39 sqm)
• Max. Occupancy: 3 adults / 2 adults + 1 child ≤ 12 years old
• With one double bedroom, one individual bedroom and two bathrooms

Family Rooms Extra:
• 28 Family Rooms Extra (128 sqm) - with and without pool view
• Max. Occupancy: 6 adults
• With three double bedrooms, three bathrooms and a large balcony

Family Rooms Extra Suite:
• 28 Family Rooms Extra Suite (207 sqm) - with and without pool view
• Max. Occupancy: 8 adults + 1 child ≤ 12 years old
• With one double bedroom and a shared living room, three double bedrooms, four bathrooms and a large balcony
Bars & Restaurants:
All inclusive service (April-October) at the following bars and restaurants:
No Spikes Bar (seasonal)
Bar next to the Reception with terrace
From 10 a.m to 01 a.m.

Driving Range Bar (seasonal)
Bar with a variety of electronic games and terrace
From 16.30 p.m. to 12 a.m.
Swimming pool support bars (seasonal)
Change of towels and drinks service (water, soft drinks and beer)
From 09 a.m. to 06:30 p.m.
Tee Point (seasonal)
Dinner reservations point, at the Birdie Restaurant terrace
From 09 a.m. to 11 a.m.
Birdie Restaurant (seasonal)
Buffet Restaurant with terrace
Breakfast: from 07:30 to 10:30 a.m.
Late Breakfast: from 10:30 a.m. to 12 p.m.
Snacks: from 4 to 6 p.m.
Boggey Restaurant (seasonal)
Buffet Restaurant with show cooking
Lunch: from 12 p.m. to 04 p.m.
Dinner: from 07 p.m. to 10 p.m.
Supper: from 10 p.m. to 12 a.m.
Double Boggey Restaurant & Bar (seasonal)
BBQ Restaurant
Bar: from 10 a.m. to 10 p.m.
Lunch: from 12 p.m. to 04 p.m.
Dinner: from 07 p.m. to 10 p.m.
Nearby:
• Salgados Beach (about 800m away)
• Salgados Lagoon Natural Reserve (about 800m away)
• Sports fishing
• Scuba Diving & Snorkeling
• Boat trips & Catamaran
• Sailing & Windsurf
• Beach water sports
• Windsurf
• Canoeing
• Parasailing
• Water ski and parasailing
• Water slide parks
• Shopping Centre
• Horse riding
• Off-road trips
• Birdwatching

Distances:
Salgados Beach: 800 m
Albufeira Marina: 5 km
Albufeira: 7 km
Algarve Shopping: 6 km
Zoomarine: 7 km
Faro Airport: 49 km
Location:
The Salgados Palm Village Apartments & Suites is located in central Algarve, near the known city of Albufeira, and is easily accessible, being only 15 minute drive from the A2 and A22 and 30 minutes from the Faro International Airport.
Golf Offers:
Golf Sun Holidays offers reduced green fees on the following golf courses for clients staying at the Salgados Palm Village: Alto Golf, Boavista, Espiche Golf, Faldo Course, Gramacho, Morgado, Morgado - Alamos, Dom Pedro Old,Dom Pedro Millennium, Dom Pedro Laguna, Dom Pedro Pinhal, Dom Pedro Victoria, Faldo Course, O'Connor Course, Palmares, Penina Golf, Pinheiros Altos, Quinta do Lago (North, South, Laranjal) Golf, Salgados, San Lorenzo Golf Club, Silves Golf, Vale do Lobo (Royal, Ocean), Vilasol Golf
Salgados Palm Village
Guia, Albufeira, Algarve, Portugal
Official rating: 4 stars
Group: Nau Hotels & Resorts
Golf Sun Holiday's Salgados Palm Village Golf Packages:
3 nights accommodation in a junior suite (2 persons) of 2 bedroom suite (4 persons) at the 4-star Salgados Palm Village Apartments & Suites, with all-inclusive food and drink, including 2 unlimited rounds of golf on your choice of Salgados, Morgado and Alamos Golf Courses, complimentary transfer service to golf courses and Albufeira downtown (shuttle to golf available on request)::
Please enquire for current rates
Enquiries: Salgados Palm Village Golf Package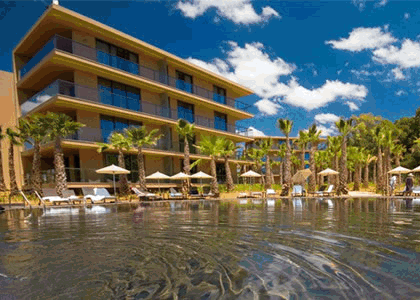 Salgados Palm Village: Accommodation and Amenities
Salgados Palm Village is a 4 star all inclusive hotel in Algarve, Portugal, ideally located between the beach and Salgados golf course. You can enjoy an all inclusive holiday from April to October with accommodation, meals, and seasonal entertainment programme available for both adults and children. If you are a beach person, then a short walk on the wooden pathway is enough to cover the distance to the sea. By night time, after dinner at one of the restaurants, relax on the wide balcony of your room.
Especially recommended for: couples, foursomes, golfing groups, families.
Recommended nearby golf: Salgados (400 m) , Faldo Course (15 min), O'Connor Course (14 min) , Silves (23 min) , Vale da Pinta (25 min), Gramacho (25 min) , Alto Golf (31 min) , Penina Championship (24 min), Penina Academy (24 min), Penina Resort (24 min), Morgado (29 min), Alamos (29 min) , Palmares (34 min) .
Salgados Palm Village Location Map:
Get a price quote for a golf holiday at Salgados Palm Village