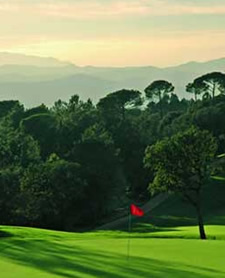 PGA Catalunya Resort has 2 championship golf courses on site
PGA Catalunya Resort:
Facts & Figures
Villa and Apartment Accomodation:
• Villa with private pool (4 bedrooms, 3 or 5 bathrooms)
• Semi-detached villa (4-5 bedrooms / 3 bathrooms - minimum 5 persons)
•Townhouse (3-4 bedrooms / 3-4 bathrooms)
• 3 bedroom apartment (3 rooms/3 bathrooms - minimum 3 persons)
• 2 bedroom apartment (2 rooms/2 bathrooms - minimum 2 persons)
• 1 bedroom apartment (1 room/ 1 bathroom - minimum 1 person)
2 bedroom apartment:
1 En suite master bedroom (double or twin beds)
1 Bedroom (double, twin or trundle beds)
1 Bathroom
1 Dining - living room / Kitchen
Outdoor terrace (some with private garden)
Parking space for 1 car
3 bedroom apartment:
1 En suite master bedroom (double or twin beds)
2 Bedroom (double, twin, sofabed or trundle beds)
1-2 Bathrooms
1 Dining - living room / Kitchen
Outdoor terrace (some with private garden)
Parking space for 1 car
4-5 bedroom Semi-detached villas:
UPPER FLOOR:
1 En suite master bedroom
1-2 bedrooms (double, twin or trundle beds)
1 Bathroom
GROUND FLOOR:
1 Study or sofabed double bedroom
1 Shower room
1 Living room with fireplace / Kitchen
Laundry / Pantry
Private garden
Outdoor terrace with barbecue
Parking space for 2 cars
Shared swimming pool
3-4 bedroom Townhouses:
UPPER FLOOR:
1 En suite master bedroom with twin beds
2 Bedrooms with twin beds
1 Bathroom
GROUND FLOOR:
1 Living room with fireplace / Kitchen
1 Bathroom
Private garden with barbecue
Parking space for 1 car
Shared infinity pool
BASEMENT FLOOR
Multipurpose room / additional Bathroom + Bedroom
4 bedroom Luxury Villas:
2-3 En suite bedrooms
4 Bedrooms (double or twin beds)
1 Bathroom - 1 Guest toilet
1 Dining - living room / Kitchen
Laundry
Storage room
Outdoor terraces
Private garden
Private swimming pool
Parking space for 2 car
Services:
• Security service 24 hours per day
• Wifi included in accommodation
• Complimentary parking
• 1 day of cleaning service included, when staying 7 nights minimum.
• Extra cleaning available (payable by the hour)
Conditions:
Minimum 3 nights stay.
Nearby:
Girona (15 km): Arab Baths, Jewish Quarter, Cathedral
Location:
The location is 15 km from the city of Girona, a great starting point for visiting the beaches on the Costa Brava, 40 km. from France, and 85 km. from cosmopolitan Barcelona. Girona airport is only 7 km. away.
Golf Offers:
Golf Sun Holidays offers discounted rates for clients staying at PGA Catalunya Resort on PGA Golf Catalunya (36 holes), Tour and Stadium courses, Girona Golf, Golf D'Aro, Emporda Golf Club, Platja de Pals Golf, Peralada Golf.
PGA Catalunya Resort
Caldes de Malavella, Girona, Spain

4 bedroom luxury villas
Boasting exceptional views over the Golf Courses, these Mediterranean-inspired family homes have been designed to blend harmoniously with their surroundings. The large, airy interior spaces make the architecture a totally integrated element of the landscape.
Split over several levels, these spacious villas have a large living room, a modern kitchen and 4 bedrooms, some of them with en suite bathrooms.
Terraces extend the indoor living space offering al fresco dining areas, a private garden and an infinity pool allow you to share unforgettable moments surrounded by nature all year round.
3-4 bedroom townhouses
Facing the 15th fairway of the Tour Course, these contemporary 280 m2 houses, split over two levels and a basement, are surrounded by green space and have their own terrace with barbecue and a shared swimming pool.
A semi enclosed atrium stretching from the basement to the roof lends elegance and personality to the house and is a source of extra ventilation and natural light for all the rooms.
A modern kitchen and the open-plan living/dining room open out onto the large veranda blending seamlessly with the landscaped area and communal area, with the backdrop of the Tour golf course.
4-5 bedroom semi-detached villas
Four and five bedroomed semi-detached villas feature wall-to-wall sliding glass doors that extend the living and dining spaces to extensive terraces and private gardens for luxurious indoor-outdoor living.
The breath-taking, double height living area is located on the ground floor, together with a modern kitchen and study, elegantly joining both storeys through a gallery, flooding them with natural light.
Thanks to the aesthetically-designed layout of these homes -forming the shape of a fan- these properties have a large private garden with direct access to a lush green communal area with a swimming pool, children's pool and sun terrace./
1, 2 and 3 bedroom apartments
In a privileged setting at the heart of the resort, La Selva apartments offer a spectacular views of the Stadium Course and the Montseny Mountains beyond.
In order to allow unobstructed views of the magnificent landscape, these comfortable homes have large sliding doors connecting the living and dining area directly with the private gardens or wide terraces. The open-plan kitchen and interiors combine contemporary comforts with classical elegance.
The spacious master bedroom has an ensuite bathroom and in some cases, direct access to the terrace.
PGA Catalunya Resort: Villas and Apartments
Especially recommended for: couples, foursomes, golfing groups, families
Resort golf: PGA Golf Catalunya (36 holes), Tour and Stadium courses
Nearby golf: Girona Golf (22 mins) , Costa Brava Golf (29 mins), Golf D'Aro (40 mins), Torremirona Golf (42 mins), Emporda Golf Club (48 mins), Peralada Golf (48 mins), Platja de Pals Golf (56 mins)
GPS COORDINATES:
Lat 41º54,2'N / Long 002º45,5'E
Location Map for PGA Catalunya Resort:


Get a price quote for a golf holiday at PGA Catalunya Resort Villas and Apartments
Back to Costa Brava accommodation