Peralada Golf Hotel
Peralada (Alt Emporda), Girona, Spain
Official rating: 5 star

Golf Sun Holidays' Peralada Golf Package:
3 nights accommodation in a double/twin room at the 5-star Peralada Golf Hotel, buffet breakfast, 2 green fees of 18 holes on Peralada Golf, 90 minute access per day to the aqua zone El Celler, and free entrance and welcome drink in the Castle Casino Peralada:
2019: 334 euros per person based on 2 sharing
As above with 5 nights and 4 green fees:
2019: 564 euros per person based on 2 sharing
As above with 7 nights and 5 green fees:
2019: 739 euros per person based on 2 sharing
Book Peralada Golf Hotel Golf Package
Hotel Peralada Wine Spa & Golf is a five-star hotel nestled in the heart of the Alt Empordà, surrounded by natural parks and near the best beaches on the Costa Brava. It is located within an 18-hole golf course and has 62 luxurious rooms and a Wine Spa, a beauty and wellness center based on the properties of wine and grapes. With a restaurant and a bar, indoor and outdoor pools, 24-hour reception, free Wi-Fi access and meeting rooms holding up to 350 people boasting natural light and magnificent views, it is also the ideal venue for businesses and celebrations. The hotel was opened in 2001 underwent a massive overhaul in 2016.
The Wine Spa is a wellness and beauty center inspried by the wine-making tradition of Peralada. It offers a wide range of facial and body treatments based on the natural benefits of wine and grape derivitives.
Guests of the hotel have included free entrance to the Casino of Peralada, free access to the fitness centre and Aquazone of the Wine Spa (climatised pool, tepid shower, tunnel shower, sauna, vapour bath, foot baths, jacuzzi, pool, relaxing zone on hot stones).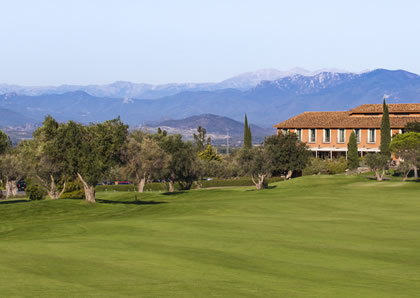 18th hole on Peralada Golf with view to hotel

Especially recommended for: couples, foursomes, golfing groups, families, Sports Training Groups
Resort golf: Peralada Golf
Nearby golf: Torremirona Golf (26 mins), Girona Golf (36 mins), Emporda Golf Club (44 mins),PGA Golf Catalunya (36 holes), Tour and Stadium courses (48 mins), Golf de Pals (56 mins), Costa Brava Golf (64 mins), Golf D'Aro (75 mins).
Golf Offers:
Golf Sun Holidays offers discounted rates for clients staying at Peralada Golf Resort on Girona Golf, Golf D'Aro, Emporda Golf Club, PGA Catalunya Golf, Golf de Pals,Peralada Golf.
GPS COORDINATES:
42º18'56'' – 3º 1' 19''
Location Map for Peralada Golf Hotel:


Get a price quote for a golf holiday at Peralada Golf Hotel
Back to Costa Brava accommodation
Peralada Golf Hotel: Accommodation and Amenities
Peralada Golf Hotel:
Facts & Figures
Accommodation:
Hotel Peralada offers 55 comfortable rooms with outstanding views to the Peralada Golf Course, the Albera mountain range, the medieval town of Peralada and the Pyrenees in the background. Hotel Peralada has a wide range of rooms to suit every need.
Hotel Peralada Wine Spa & Golf, was renovated and updated in 2016, was expanded with six Suites: four Junior Suites, a Garden Suite and a Presidential Suite.
Standard Rooms:
These rooms will provide you with all the comfort and convenience for a pleasant stay in a warm and relaxing atmosphere. All the rooms are equipped with dressing gowns and slippers, TV, minibar, telephone, ADSL access, DVD-CD player, case safety.
Junior Suites:
Otello, Andrea Chénier, La Bohéme , Turandot, Carmen and La Traviata. These great operas of the Peralada Festival are the inspiration for the names of the suites that live up to their prestige. Comfortable and modern, they boast a large terrace with access to the lake. The suites have a 42-square-meter room plus a 30-square-meter terrace, thought out to the smallest detail, that reflect the unique personality of each one of the operas that they were inspired by. The Carmen and La Traviata suites are pet friendly and feature independent access to the hotel and a private garden.
Don Giovanni Suite and Madama Butterfly Presidential Suite:
A comfortable and innovative design of 75 square meters plus a 70-square-meter terrace and 95 square meters plus a 70-square-meter terrace, respectively. This is the essence of two newly constructed large suites which, through fine materials, natural textures, and neutral and relaxing colors, create a warm and welcoming atmosphere. A harmony that is maintained in its terraces with access to the lake, turning the two suites into an oasis of peace and well-being. 70 square meters with a terrace.

Spaces:
Tranquillity and exclusive atmosphere with unique surroundings where you will find countless spaces to relax. Indulge yourself reading the morning press in the library, sunbathing on the terrace next to the outdoor swimming pool or savouring a delicious cocktail in the Wine Bar while you watch the sunset.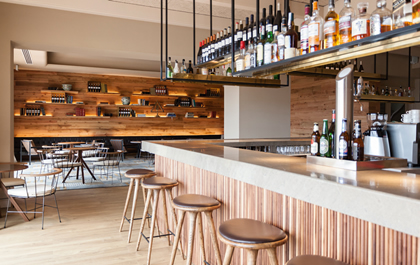 L'Olivera Wine Bar
Restaurant:
The Restaurant l'Olivera, with magnificent views of the countryside, has an extensive, creative menu based on traditional cuisine with avant garde, surprising touches.

Wine Bar:
This bar is set in a first half of the 20th century atmosphere. You will find the best wine and the most exotic cocktails.
Garden Bar:
Bar with terrace next to the swimming pool. It is open for the summer season and offers a fresh and wide variety of salads, fruit juices, sandwiches and ice cream.
Leisure Facilities:
Golf, tennis, paddle tennis.
Training Facilities:
Hotel Peralada offers you a wonderful football field with natural grass only a few meters from the hotel, what makes it the perfect place for sport clubs to its preseason or some special match in a private and convenient atmosphere.
Adapted menus suitable for the athletes' diet, treatments, massages and relax in the Wine Spa, tennis and paddle tennis matches in the outdoors courts, swimming sessions in the swimming pool and special rooms for technical meetings and press conferences are some of the facilities that will help you to programme the best stay for your team.
FC Barcelona, RCD Espanyol, Deportivo A Coruña, Olimpique de Marseille, USAP Perpignan (Rugby), the French national football team and Club Bàsquet Girona are some of the several teams that have already used these facilities.
Activities at the Peralada Golf Hotel:
Guests can enjoy a rich variety of cultural events, fine food, wine, health and sports activities in an idyllic setting.
Wine Spa:
The Wine Spa is a wellness and beauty center inspired by the winemaking tradition of Peralada. It offers an extensive assortment of face and body treatments based on the natural benefits of wine and grape products, which combat free radicals, stimulate the production of collagen and foster blood circulation. Wine has been proven to exert a protective effect against cardiovascular diseases. Plus, it also has an exclusive range of in-house cosmetics that offer all the antioxidant, moisturizing and regenerative power that the skin needs.
Meeting Rooms:
All Hotel Peralada's meeting rooms, areas and facilities are suitable for corporate and social events.
Its spacious reception rooms have natural lightning and excellent views and are full-equipped with state of the art technology to guarantee maximum comfort in work sessions.
You will be able to choose among a wide range of coffee-breaks, menus and activities for groups that will make of it the best performing investment.
Other facilities:
The Hotel Golf Peralada is an exceptional place for weddings and social events. Its exquisite natural setting, surrounded by the golf course edged with lakes, water-banks, trees and water birds, exudes pleasure.
Activities Nearby:
Practise different sports, such as cycling, fishing, sailing, horse riding, parachuting or golf. There are also Walks, Gastronomic Tours, Shopping, Natural Parks, Cultural Tours, horse riding, kayaking, windsurfing, parachuting or enjoy the sun and sand of the beaches of the Costa Brava, and much more. The hotel also organises excursions, individual and group activities.
Night Life:
Enjoy the different entertaining options the Costa Brava night offers you. You can choose among quiet pubs to relax on the seashore, gaming at Peralada's Casino or the longest dancing nights in the most popular clubs.
The Resort:
The Hotel Golf Peralada forms part of the Peralada Resort, which also includes the nearby Castillo de Peralada, with its prestigious casino, the castle museums containing the library, with over 80,000 books including 1,001 editions of El Quijote, the glass museum and the wine museum, Castillo Perelada winery (Do Ampurdán) and the Castell de Peralada International Music Festival. It is not by chance that a 16th century castle should host a casino within its walls, where the outline of the tapestries can still be seen. The Casino Peralada brings prestige to the area, yet another sign of its identity, an entertainment centre open 365 days of the year, offering a huge variety of other leisure activities and excellent places to eat. Gaming: Slot Machines, Reel machines, Poker machines, Video-reel machines, Multigame machines, Multi-station roulette, Gaming tables, La Boule, French roulette, American roulette, Black Jack, Mini Punto-Banco, Stud poker, Texas Hold'em poker. Open all year round
The town of Peralada:
Peralada, a town in the Ampurdán region in Northern Catalonia, is undoubtedly unique in the richness of its culture, history and natural resources. Dating back one thousand years, it was one of the main capitals of Ampurdán throughout the Middle Ages and the birthplace of the chronicler, Ramon Muntaner in 1265. Several monuments and buildings still remain from this age of splendour. It is worth taking a walk around the old town to visit the museum complex of the Centre de Turisme Cultural Sant Domènec and the Convent del Carme, which contains the library and the Castillo de Peralada museums. The Castillo de Peralada is mediaeval in origin and has a remarkable Renaissance façade and neo-gothic elements. Its distinctive feature are the twin towers which have long signified its enduring position in the artistic and cultural landscape in Peralada. It was built by the Viscounts of Rocabertí, who were elevated to the status of Counts in 1599. There is mention of the family name of the Counts of Rocabertí in El Quijote as being one of the oldest and greatest lineages in Catalonia.
Video: https://youtu.be/CN7Ti4zEXDs
Location:
30 minutes from Girona.
Get a price quote for a golf holiday at Peralada Golf Hotel
Back to Costa Brava accommodation