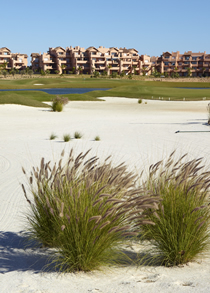 Mar Menor Residences overlook Mar Menor Golf
Mar Menor Residences:
Facts & Figures
Accommodation:
These luxury apartments leave no details to chance, They have a beautiful and bright living room, fully furnished with modern and comfortable furniture. Fully equipped kitchen and full bathroom. 1,2 or 3 bedrooms, terrace or garden, communal swimming pool, all of them overlooking the golf course and beautiful lakes.
Resort:
The complex offers top level facilities and services with a 5 star Intercontinental Hotel and its facilities: spa, swimming pool, restaurants, Proshop and cafés; an 18 hole golf course designed by Nicklaus Design; sports facilities, Social Club with cafés, swimming pool, restaurants, supermarket, cash dispensers, bank, etc.
Food & Beverage:
All restaurants in the Mar Menor Golf Resort are available:
. Nomad Restaurant - Mediterranean cuisine on the magnificent terrace.
. El Club House, Club House. Fish, meats, sandwiches,....
. Al Fresco – Pool Restaurant with a fresh variety of sandwiches, salads, burgers….
. La Fontana de Pietra: Restaurant Trattoria. Enjoy the best Italian Cousine. Homemade Pizzas and a wide range of different pastas
. El Olivo: Bistro Restaurant. The best selection of salads, tacos, paellas...etc and everything by the pool.

SPA at InterContinental Mar Menor Golf Resort & Spa:
For groups that require a total spa experience we can arrange treatments at the exclusive SPA at
InterContinental Mar Menor Golf Resort & Spa. Treatments personally tailored for each client balance ancient therapies with modern techniques and are complemented by SPA's unique hot thermal heat experience, a series of vitality pools, saunas, steam
rooms and lifestyle showers. In addition to 7 treatment rooms, a private spa for two and a finishing
touches studio the 1100m spa also has a 15 meter indoor heated pool and a state-of-the-art fitness studio.
Groups must make spa reservations in advance.
Special Golf Offer:
Golf Sun Holidays offers reduced green fees for all clients on Mar Menor Golf (on site), Alhama Signature (40 min) , El Valle (25 min) , Hacienda Riquelme (20 min) , La Torre (15 min) , Roda Golf (15 min), Saurines de la Torre (15 min)
Mar Menor Residences
San Javier, Murcia, Spain
Classification: 1, 2, 3 bedroom Holiday Apartments
Golf Sun Holidays' Mar Menor Residences Golf Package:
7 nights accommodation in a 2 bedroom luxury fully equipped apartment at the Residences Mar Menor Village (all rooms with twin beds) with breakfast daily (limited buffet) at the clubhouse, and 5 green fees on your choice of Alhama Golf, Saurines Golf, El Valle Golf, La Torre Golf, Mar Menor Golf and Hacienda Riquelme Golf.
15 Jul-31 Aug/18: 714 euros per person
1-30 Sep/18: 372 euros per person
Prices based on 4 sharing apartment
1 person fee in 8
Bookings more than 60 days in advance:
1-30 Sep/18: 355 euros per person
Prices based on 4 sharing apartment
1 person fee in 8

Book Mar Menor Residences Golf Package
The Residences at Mar Menor are brand new apartments in the heart of the Mar Menor Golf Resort... which means doing what you really want to do, it means tranquility, sun, beaches, fine cuisine, sport, fun… At the Residences you will enjoy family holidays the way you like them. Feel at home, but without giving up the comfort and services of the best hotels. Choose a weekend break or stay as long as you like, of course, you will have access to all the services provided by Mar Menor Golf Resort, Intercontinental Mar Menor and Murcia Golf Experience. There are also infinite ways to enjoy your free time, including: golf, the spa, shops, bars, restaurants, terrace bars, sports facilities and a long list of activities designed to keep the whole family entertained.

And all this in Murcia, a region with one of the mildest climates in the Iberian Peninsula. The resort enjoys fantastic natural surroundings and is close to the best beaches of the Mar Menor as well as being only a few kilometers from the cities of Murcia and Cartagena.

Mar Menor Residences: Accommodation and Amenities
Especially recommended for: couples, foursomes, families, golfing groups.
Resort Golf: Mar Menor Golf
Recommended Golf Nearby: Alhama Signature (40 min) , El Valle (25 min) , Hacienda Riquelme (20 min) , La Torre (15 min) , Roda Golf (15 min), Saurines de la Torre (15 min) , Lo Romero
Mar Menor Residences Location Map:
Get a price quote for a golf holiday at Mar Menor Residences