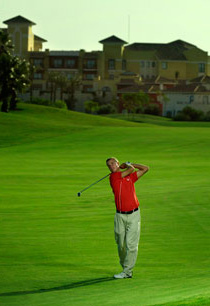 Intercontinental Mar Menor overlooks Mar Menor Golf Course
Intercontinental Mar Menor:
Facts & Figures
Accommodation:
• 57 deluxe double rooms, 5 executive suites, 1 superior deluxe suite, 1 royal suite
• Television, LCD, WIFI, ADSL, mini-bar, laptop safe with PC & mobile charger, 24 hour room service
Deluxe Rooms are spacious 34 SQM All have balconies with views over the golf course and large marble bathrooms with twin washbasins separate walk-in shower and hydro massage bath. Luxury styling creates an intimate atmosphere and each room is equipped with the latest technology.
• Business Center
• Free Morning Newspaper Delivered to Room
• Turndown Service
• Valet Service
• Cable / Satellite TV
• CD Player
• Color TV
• In Room Movies - Pay Per View
• In Room Movies - Premium Cable
• Sound System
• Stereo
• In Room Video Games Available
• Mini Bar
• Analog Dial-up
• High-speed Internet Access
• Wireless Data Connection
• Internet Browser TV
• Meeting Room, complimentary
• Work Desk w/ Lamp
• Desk Level Electrical Outlet
• Electrical Adapters Available
• Power Converters Available
• Spare Electrical Outlet at Desk
• A large terrace overlooking the golf course or pool complements the 55-square-metre (592-sq-ft) executive suites.
Facilities (overview) :
• 3 restaurants & 4 bars
• 400m of banqueting floor space with natural light
• SPA 1100m luxury spa
• Par 72, 18-hole Nicklaus Design golf course
• Outdoor and indoor pools
Health & Fitness Centre (on site) :
Professional Gym. Wonderfull cardio machine, equiped with the last technology of TechnoGym. You may enjoy the Sport in an elegant and exclusive enviroment. Open 24Hours a day. Sauna and Steam available for after working out. 24 hours

Spa:
Every Spa treatment is a totally caring, personalised experience and the ultimate in luxury. The treatments will include hot stone signature treatment, Ayurvedic Rituals, Intensive Facials, Ultimate Body Massages and Body Wraps. Learn More
• Sauna
• Whirlpool
Entertainment:
Enjoy a round of golf on Mar Menor Golf, the golf course that surrounds the hotel. Part of the Nicklaus Golf Trail guests can enjoy all of courses on the trail, easily accessible via a complimentary bus service from the hotel
• Recreation & Sports Court
• Indoor Pool
• Live Entertainment
• Outdoor Pool

Business Services:
• Business Center Staffed Between 7:00 AM and 11:00 PM
• Alternatives to Business Services: Hotel Reception Tickets 5 €- Half an Hour; Tickets 10 €- 1 hour
• Copying
• Courier Service
• E-mail & Internet
• Executive Suites
• Facsimile
• Mobile Phone Rental
• PC available
• Printer
• Private Limousine
• Technical Concierge
• Unstaffed Business Center
• Analog Dial-up Service Available
• * Initial Fee: €12.00 (EUR)
• Service Provider: Vodafone
• High Speed Internet Access
• * Initial Fee: €12.00 (EUR)
• Service Provider: Vodafone
• PC available
• Wireless Data Connection
• * Initial Fee: €12.00 (EUR)
• Service Provider: Vodafone
• Secretarial Services
• Secretarial Services
Travel Services :
• Rental Car Desk(s): Concierge
• Foreign Currency Exchange
Special Golf Offer:
Golf Sun Holidays offers reduced green fees for all clients on Mar Menor Golf (on site), Alhama Signature (40 min) , El Valle (25 min) , Hacienda Riquelme (20 min) , La Torre (15 min) , Roda Golf (15 min), Saurines de la Torre (15 min) , La Peraleja
Intercontinental Mar Menor
San Javier, Murcia , Spain
Official Rating: 5 star
Group: Intercontinental
Located at the heart of Mar Menor Golf Resort and surrounded by the golf course this intimate hotel is noted for its traditional cosy style and relaxed atmosphere. The hotel has 64 spacious luxury rooms, 7 are suites, all with private balconies and large bathrooms that offer an independent shower and whirlpool bath. With 3 restaurants and 3 bars, the hotel also offers a full range of gastronomic options and entertainment including a traditional Irish pub. The luxury accommodation is complemented by the Spa which offers a thermal suite with revitalizing pools, sauna, steam room and lifestyle showers, a relaxation room, fitness area and a nice indoor pool. Moreover, an exclusive range of Spa treatments that combine modern techniques with ancient therapies. The hotel is surrounded by Mar Menor Golf Village an 18 holes Par 72 golf course, part of the Murcia Golf Experience Unique in Europe and one of Europe's best golf experiences.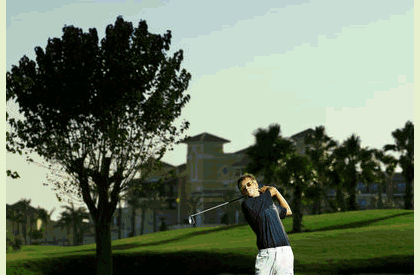 Intercontinental Mar Menor: Accommodation and Amenities
Especially recommended for: couples, foursomes, families, golfing groups, conferences.
Resort Golf: Mar Menor Golf
Recommended Golf Nearby: Alhama Signature (40 min) , El Valle (25 min) , Hacienda Riquelme (20 min) , La Torre (15 min) , Roda Golf (15 min), Saurines de la Torre (15 min), Lo Romero , La Peraleja
Intercontinental Mar Menor Hotel Location Map:
Get a price quote for a golf holiday at Intercontinental Mar Menor