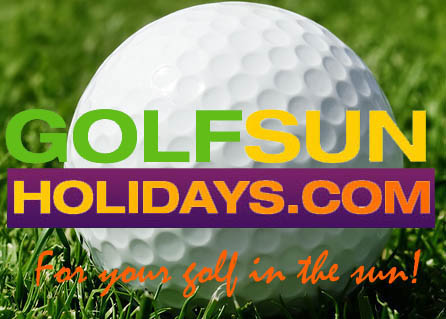 MADEIRA GOLF COURSES ARE OPEN:
Golf courses were allowed to be open as of 4th March 2021. Social distancing and other health safety measures are in place.
Discount Golf Prices, Rates: Madeira, Portugal
Green Fees, Tee Times and Golf Bookings - Madeira, Portugal
Nearest Airport: Madeira (FNC)
PLEASE NOTE: THE PRICES LISTED BELOW ARE IN EUROS, AND ARE PER PERSON AND ALL-INCLUSIVE. PRICES INCLUDE ALL TAXES, CREDIT CARD CHARGES, SERVICE FEES, ETC. BUGGIES ARE NOT INCLUDED UNLESS NOTED BELOW.
Golf Sun Holidays discount prices:
| PALHEIRO GOLF COURSE INFORMATION | REGULAR PRICE | OUR PRICE | DATES |
| --- | --- | --- | --- |
| 18 holes. Groups: 1 in 8 free. | 110 € | 82.50 € | 19 Apr/21-30 Apr/22 |
| 7 days unlimited golf (over 7 consecutive days) | 335 € | 295 € | 19 Apr/21-30 Apr/22 |
| 3 green fees | 231 € | 228 € | 19 Apr/21-30 Apr/22 |
| 5 green fees | 385 € | 380 € | 19 Apr/21-30 Apr/22 |
| 3 green fees with buggy OR clubs | 330 € | 314 € | 19 Apr/21-30 Apr/22 |
| 5 green fees with buggy OR clubs | 520 € | 485 € | 19 Apr/21-30 Apr/22 |
| | | 202 € | Until 31 Oct/22 |
Other prices (available from pro shop):
Buggy: 45€
Trolley: 6€
Range + bucket of balls (35): 6€
Rental Clubs: 45€ includes 4 balls and tees
Juniors up to 18 years: Green Fee 50% discount on Regular Price
Free Transfer Service by Courtesy Bus:
Transfer to and from hotels in Funchal and Caniço are included (reservation required).
Groups: Transfers to and from hotels outside Funchal or Caniço - prices on request.
Free transfer service would not be available:
• as a health and safety precaution
• if determined by official entities
• during pandemic times

SANTO DA SERRA GOLF COURSE INFORMATION
REGULAR PRICE
OUR PRICE
DATES

18 holes

110 €

79.50 €

Until 31 Oct/22

9 holes

65 €

47.50 €

Until 31 Oct/22

3 x18 holes including shared buggy

330 €

311 €

1 Nov/21-31 Oct 22

5 x18 holes including shared buggy

500 €

474 €

1 Nov/21-31 Oct 22

7 days unlimited golf (valid for 2 consecutive weeks period)

335 €

279 €

1 Nov/21-30 Apr/22

7 days unlimited golf (valid for 2 consecutive weeks period)

305 €

247 €

1 May-31 Oct/22

18 holes - groups of 6 or more players.
Includes 1 trolley + 2 tokens (52 balls) per person per day.

110 €

68 €

Until 31 Oct/22

202 €

Until 31 Oct/22

Other prices:
Buggy: 45€ - 18 holes; 35€ - 9 holes
Buggy for groups (6 or more players): 36€
Trolley: 8€
Trolley for groups (6 or more players): 5€
Range balls: 1 token (26 balls) 5€; 2 tokens 8€; Unlimited balls (2 hours) 18€
Rental Clubs (Taylor Made): 45 € per day; 135€ per week
Rental Clubs (Taylor Made) for groups (6 or more players): 38€ per day; 114€ per week
Juniors up to 18 years: Green Fee 50% discount on Regular Price

Free Transfer Service for golfers only:
1st pick up - Funchal 09:00/09:15/ Return 15:00/15:30
2nd pick up - Funchal 11:00/11:15 - Return 17:00/17:30
Complimentary service is offered for individuals and groups to and from selected hotels in Funchal, Caniço, Santa Cruz, Machico.
Free transfer service would not be available:
• as a health and safety precaution
• if determined by official entities
• during pandemic times