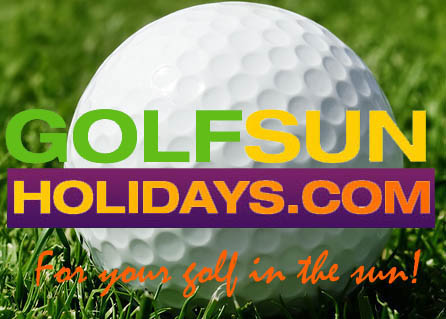 GOLF COURSES ARE OPEN:
The Spanish government has allowed golf courses to re-open as of May 11, 2020 with social distancing and health safety measures in effect.
ENTERING SPAIN FROM ABROAD:
From 7 June 2021, all those passengers from a country/area that has a SARS-CoV-2 coronavirus risk, must present a negative Covid-19 test, vaccination certificate, or proof of recovery from Covid-19 on arrival. There is also a health form to complete. More information: https://www.mscbs.gob.es/en/profesionales/saludPublica/ccayes/alertasActual/nCov/spth.htm


Discount Golf Prices, Rates: Costa Dorada - Daurada, Spain
Green Fees, Tee Times and Golf Bookings:
Tarragona, Reus, Salou, Cambrils, Costa Dorada - Daurada, Spain
Nearest Airport: Reus (REU)
PLEASE NOTE: THE PRICES LISTED BELOW ARE IN EUROS, AND ARE PER PERSON AND ALL-INCLUSIVE. PRICES INCLUDE ALL TAXES, CREDIT CARD CHARGES, SERVICE FEES, ETC. BUGGIES ARE NOT INCLUDED UNLESS NOTED BELOW.
SPANISH FEDERATION INSURANCE (approx. 2 €) IS CHARGED AT SOME COURSES ON THE DAY AND SOME COURSES INCLUDE THIS IN THE GREEN FEE.
Golf Sun Holidays discount prices:
Rentals:
Buggy: 40€
Buggy (9 holes): 30€
Trolley: 5€
Electric Trolley: 15€
Golf Clubs: 35€
Driving range (unlimited balls): 5€


Rentals:
Buggy: 32€
Trolley: 4€
Electric Trolley: 10€


Infinitum GOLF COURSE INFORMATION
REGULAR PRICE
OUR PRICE
DATES

18 holes (Infinitum Lakes & Hills)

115 €

PLEASE CONTACT US FOR OUR BEST PRICE

2021-22

9 holes (Infinitum Ruins)

€

PLEASE CONTACT US FOR OUR BEST PRICE

2021-22

1 player free with 7 paying (on green fees only.)
Not compatible with 2 green fees + buggy package.

€

1 FREE IN 8

2022
Warm-up balls at the driving range before first tee time: included BEFORE green fee.
Rentals:
Buggy: 18 holes - 45€, 9 holes - 35€
Trolley: 7€
Electric Trolley: 15€ (18 or 9 holes)
Locker in dressing room: Complimentary
Daily Rental Set (Cobra): 40€